Top 5 At-Home Exercises for Active Adults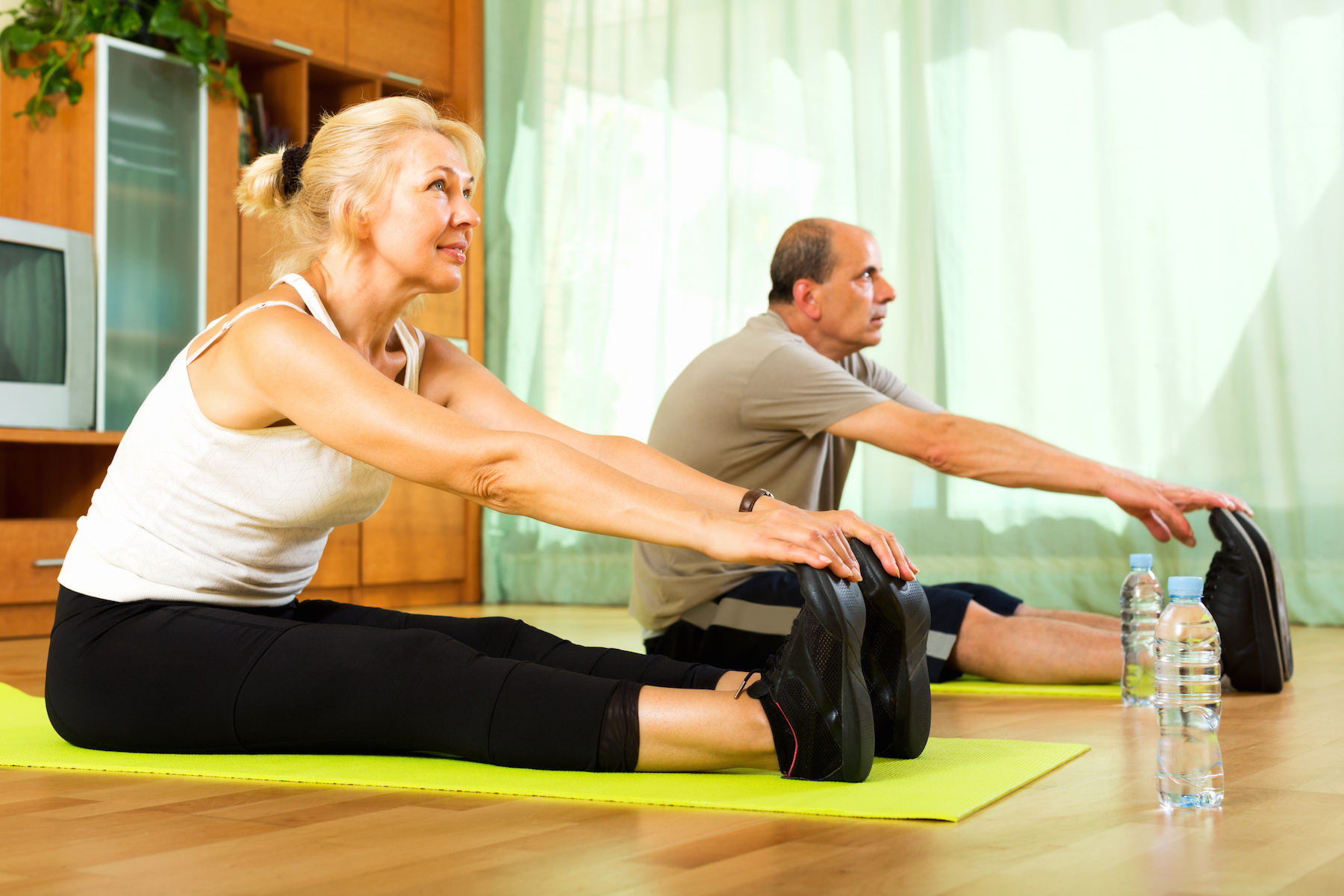 It's no secret that with each passing year the possibility of developing issues such
as stiff joints, tight muscles and an aching back become more of a reality. And
with stay-at-home orders in place for the time being, and fitness centers closed for business, keeping fit can seem nearly impossible. But it's not… Engaging in a moderate exercise program will help you improve your balance and coordination. This is super important to reduce the risk of falls as we get older.
Take a look at these 5 exercises from aginginplace.org that are safe for Active
Adults to keep fit at home:
1. The Tightrope Walk
The Tightrope Walk is a highly-recommended exercise for boosting balance, posture, and core strength. It's also a pretty simple activity for seniors. This exercise requires no equipment at all. All you need to do is hold your arms out straight from your sides, making sure they are parallel to the floor. Walk in a straight line, pausing for one to two seconds each time you lift a foot off the ground. Focus on a spot in the distance to help you keep your head straight and maintain your balance. Take 15 to 20 steps with these instructions before moving on to another exercise. Having someone monitor your steps can help you keep count and keep you motivated.
2. Toe the Line
This balance exercise makes your legs stronger to help you walk without falling. It
requires no equipment, but if you feel like you may fall have someone with you for supervision.
To start this exercise, begin at one wall with your heels touching the wall. Put one
foot in front of the other foot so that your heel touches to the toes of the opposite foot. Move the foot that is against the wall in front of the other foot, putting your weight on your heel. Shift the weight to your toes and then repeat the walking motion. Take your time to ensure you are placing heel to toe. Walk like this for 20 steps.
3. Back Leg Raises
Back leg raises are the best and simplest strength training exercises for Active
Adults. In addition to improving your balance, it will help in building your strength and endurance while still supporting your lower back.
Start by standing behind a seat. The next step entails lifting your right leg straight
backwards. When doing this, try your best not to bend the knees. Remain in this
position for a couple of seconds before returning your leg back down. Do the
same for the other leg. The recommended frequency for this physical activity is
fifteen times for each leg.
4. Side Leg Raise
If you were able to perform the back leg raise, then performing this one will be a
breeze. All you need is a chair, sturdy walking shoes and someone to supervise
you for this exercise. Start in the same manner—by standing behind a chair with your feet shoulder width apart. Make sure you are standing up straight, head and toes facing forward. Raise one foot off the ground, bringing your leg up and out to the side and hold for a second or two and then bring back down to the floor. Repeat with the other leg, alternating this process five times on each side. You can increase this frequency as you become more comfortable.
5. Squat to a Chair
If you're looking for a balancing exercise for seniors, the squat is an excellent
choice. One major problem that elderly encounter entails getting up and down,
and it's during these times that they lose balance and suffer falls. But, you don't
have to worry about this anymore; at least not if you commit to doing chair squats regularly. The main goal of this activity is to strengthen your knees and hips; hence, boost your stability. Supervision is recommended for this exercise.
Begin by standing in front of a seat. Your legs should be hip-width apart. Ensure
that your chest is raised slightly and then try lowering your hips back and down
while bending at the knees. You are free to hover above the chair or simply sit
down. The only precaution to take is to avoid extending your knees beyond the
toes. Remain in this position where your entire body is leaning forward, starting from the hip region. Try pausing at the bottom of this movement then push through your feet before resuming your original position.
In addition to exercises, here are a few tips that can improve balancing for Active
Adults. These include:
• Maintain an active lifestyle—you can go for walks around your neighborhood -The Vistas has wonderful walking and biking trails that you can use.
• Maintain a healthy weight—Diet has been known to be a contributing factor to
poor balance. Consult a dietician to come up with an appropriate meal plan
that will boost your gait.
• Participate in strength training—strength training is not just for those who want
to gain more muscle. There are plenty of great strength training workouts
that can help you regain balance.
If you're looking for the quintessential luxury active adult lifestyle, look no further than The Vistas of Port Jefferson – where everyday living will feel like resort-living.