7 Tips for Moving with Pets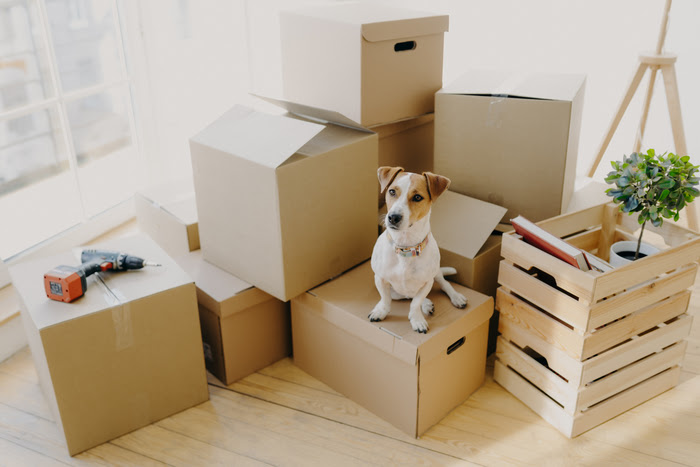 Thinking of moving with pets? Many Active Adult, 55+ Communities welcome pets nowadays, which is such a comfort to many looking to take their furry loved ones to their next home. If the process of moving is stressful for you, imagine what it must be like for your pets. Follow these tips to make your move safer and less stressful for you and your furry friends.
Switching Vets?
Ask for extra prescription refills, request vet records, and discuss the safest options for moving with your pet. Knowing that your pet is in good health buys you time to properly research a new vet.
Stock up on Specialty Food
In case you can't find special foods right away in your new area, bringing an ample supply will help avoid delays and emergencies.
Microchip and Update Tags
Make sure your new address and phone number are visible, and if you haven't already, this is a great time to microchip your pet.
Do Your Homework
Find out what's required in your new community. There may be stricter leash laws, designated pet-walking areas, or localized pests, like ticks that might require special collars or medications.
Manage Your Pet's Stress
Having multiple people moving items in the house can cause stress for pets. Ask a friend to watch your animal companion while this is going on, and then transport your little friend to his new home once all the chaos of moving day has settled.
Manage the Environment
Pets can pick up that change is coming – even as your movers are taking furniture out of your home on moving day. Never leave your dog at home alone in an empty house—a barren environment can be extremely stressful, causing behavioral and anxiety issues.
Road Trip Basics
Keep your pet safe and secure in a well-ventilated crate or carrier. Your vet may also recommend a calming, all-natural vitamin to reduce stress and help your pet relax. Pack an on-the-go traveling kit with your pet's food, water, medications, a leash, waste bags, vaccination records, and a toy or blanket to give your pet a sense of familiarity.
Soon enough your pet will feel safe and comfortable in his new home, and you can rest easy knowing you made his transition as stress-free as possible.
Considering a pet-friendly, 55 plus community on Long Island? Come see The Vistas of Port Jefferson – with their walking trails and on-site dog park, there'll be plenty of space for both you and your furry friend to take in the fresh air. Call 631-881-4202 to arrange your personal tour today!
Are you ready to explore maintenance-free resort-style living – right here on Long Island? Now that you're aware of some tips for moving with pets,  contact us at The Vistas of Port Jefferson to schedule your personal tour today!